FOR DEMO WHATSAPP US ON +2348061676089
SEND US A MESSAGE ON FACEBOOK FOR MORE INFO and DEMO
https://facebook.com/websaro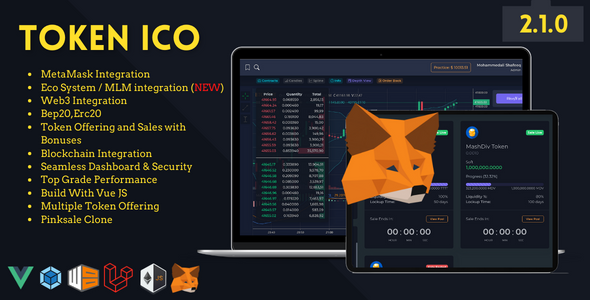 Introducing the Token ICO Addon for Bicrypto – a powerful and comprehensive solution for conducting Token Initial Offering or ICOs seamlessly.
Whether you are looking to launch a new cryptocurrency, raise funds for a blockchain-based project or simply create a decentralized application, this addon is the perfect choice for you. It offers you a complete set of features and tools that simplifies the entire ICO process.
Here are some of the key features of Token ICO Addon for Bicrypto:
1. Whitepaper Uploader: With our addon, you can easily upload your whitepaper document so that investors can have a better understanding of your project's goals, objectives, and roadmap.
2. KYC/AML Verification: Ensure that all participants are verified using the robust KYC/AML feature where they are required to submit their personal identification documents for verification.
3. Smart Contract Integration: We provide easy integration with blockchain-based smart contracts to enable automatic distribution of tokens as well as the automatic enlisting of investors on the blockchain.
4. Bounty Manager: Encourage community involvement and loyalty by offering incentives for referrals, promotions, and other activities and manage them using our bounty manager.
5. Support for multiple payment methods: Our addon supports multiple payment methods including fiat and cryptocurrencies, making it easy for investors to participate from anywhere in the world.
6. Customizable ICO pages and Dashboard: Our ICO addon offers customizable ICO pages and Dashboard that allows flexibility and control over data view for your ICO participants.
7. Security features: Security is our top priority, our addon implements features such as Two-Factor Authentication (2FA), SSL and Audits to ensure your ICO runs smoothly.
With our Bicrypto Token ICO Addon, you are guaranteed a seamless, professional ICO process, where your project has the best chance of success. Get started today and take advantage of our leading-edge cryptocurrency tools!
[