FOR DEMO WHATSAPP US ON +2348061676089
SEND US A MESSAGE ON FACEBOOK FOR MORE INFO and DEMO
https://facebook.com/websaro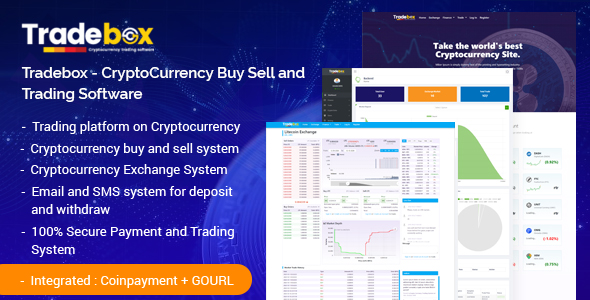 Tradebox – CryptoCurrency Buy Sell and Trading Software, is a powerful and customizable platform that allows you to manage cryptocurrency buying, selling, and trading in a highly efficient manner. It's the perfect solution for businesses and individuals who wish to enter the world of cryptocurrency trading with ease.
Tradebox offers a long list of features that make it stand out among cryptocurrency trading software. These include:
1. Multiple Cryptocurrencies Supported: Trade all the top cryptocurrencies including Bitcoin, Ethereum, Ripple, Litecoin, and more.
2. Advanced Trading Engine: The advanced trading engine is capable of processing thousands of trades per second with an average latency of just 50 microseconds.
3. Highly Customizable Interface: Customize the dashboard to your liking by adding or removing widgets, and arranging them in any way you desire.
4. Price Charts: View price charts of different cryptocurrencies to help you make informed trading decisions.
5. User Management: Manage user details and reports, and set user permissions according to your needs.
6. Fast and Secure Transactions: Tradebox is built on the most secure and reliable technology available ensuring fast and secure transactions.
7. KYC and AML Compliance: Tradebox is compliant with KYC and AML regulations, ensuring that your transactions are secure and in compliance with regulatory requirements.
8. 24/7 Customer Support: Our dedicated team of customer support professionals is available 24/7 to assist you with any questions or issues you may have.
Whether you're a beginner or an experienced trader, Tradebox offers everything you need to start trading cryptocurrencies in a fast, secure, and efficient manner. Get started today and take your crypto trading to the next level!
[