FOR DEMO WHATSAPP US ON +2348061676089
SEND US A MESSAGE ON FACEBOOK FOR MORE INFO and DEMO
https://facebook.com/websaro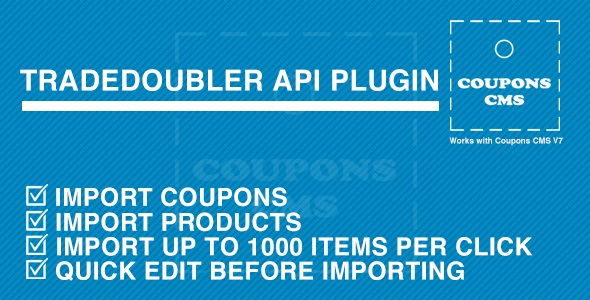 TradeDoubler is one of Europe's leading affiliate marketing networks, helping advertisers and publishers optimize their online marketing strategies.
With the TradeDoubler Plugin for Coupons CMS, you can now integrate the power and reach of TradeDoubler to your coupon website, and maximize your earning potential.
Here are some key features of the TradeDoubler Plugin:
– Easy Integration: The TradeDoubler Plugin seamlessly integrates with your Coupons CMS powered website, giving you instant access to TradeDoubler's vast network of advertisers and publishers.
– Advanced Tracking: The plugin tracks all clicks and referrals from your website to TradeDoubler's advertisers, and provides detailed reports on the performance of each campaign.
– Automated Coupon Codes: The plugin fetches coupon codes from TradeDoubler's database, and automatically updates them on your website, saving you time and effort.
– Customizable Layout: You can customize the layout and design of the coupons and deals displayed on your website, to match your brand and style.
– Regular Updates: The plugin is regularly updated to ensure compatibility with the latest version of Coupons CMS, and to offer new features and enhancements.
With the TradeDoubler Plugin for Coupons CMS, you can monetize your coupon website, and earn commission on every sale generated through your referrals. Start earning today!
[