FOR DEMO WHATSAPP US ON +2348061676089
SEND US A MESSAGE ON FACEBOOK FOR MORE INFO and DEMO
https://facebook.com/websaro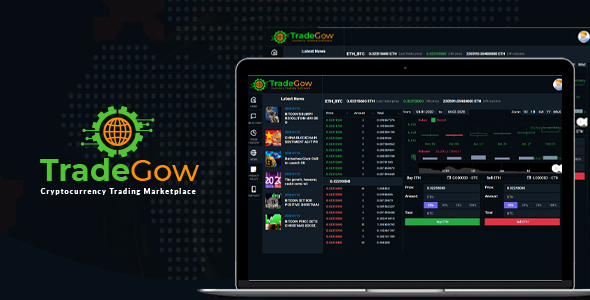 TradeGow is a powerful and feature-rich cryptocurrency trading marketplace that is designed to cater to the needs of both experienced traders and beginners alike. With a sleek and intuitive user interface, this platform is a one-stop-shop for all your cryptocurrency trading needs.
Some of the key features of TradeGow include:
1. Multiple Cryptocurrencies: TradeGow supports a wide range of cryptocurrencies including Bitcoin, Ethereum, Ripple, and many others.
2. Trading Pairs: With multiple trading pairs available on the platform, users can easily buy and sell cryptocurrencies with ease.
3. Advanced Trading Tools: From chart analysis to real-time price tracking, TradeGow offers a host of advanced trading tools to help traders make informed decisions.
4. Secure & User-Friendly Wallets: With built-in wallets for multiple cryptocurrencies, users can easily keep their funds safe and secure on the platform. These wallets also make it easy to transfer funds between different trading pairs.
5. KYC Verification: To ensure the safety and security of all users, TradeGow has a robust KYC verification process in place.
6. Referral System: Users can earn commission by referring their friends to the platform.
7. Multiple Payment Options: TradeGow supports multiple payment options including bank transfers, credit/debit cards, and cryptocurrencies.
8. 24/7 Customer Support: Our dedicated customer support team is available 24/7 to help users with any queries they may have.
Whether you're a seasoned trader or just starting out in the world of cryptocurrency trading, TradeGow is the perfect platform for you. So, what are you waiting for? Sign up today and start trading like a pro!
[