FOR DEMO WHATSAPP US ON +2348061676089
SEND US A MESSAGE ON FACEBOOK FOR MORE INFO and DEMO
https://facebook.com/websaro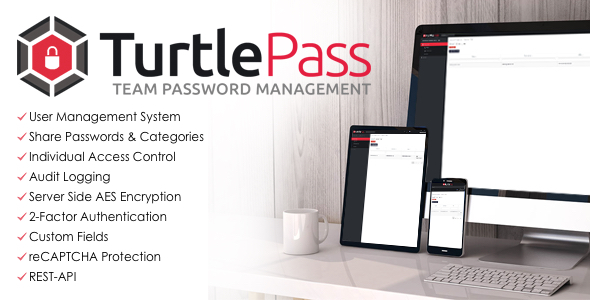 TurtlePass is a team password manager that enables you to keep passwords organized and secure. It is loaded with the robust features you need to keep your team's accounts and sensitive information safe.
TurtlePass features:
1. Secure Password Storage – TurtlePass stores your passwords securely by encrypting them with AES-256 bit encryption.
2. Password Sharing – Easily share passwords with your team or clients while keeping them secure.
3. Role-based Access Control – Set permissions based on user roles to grant or revoke access to passwords and files.
4. Two-Factor Authentication – Protect your accounts with two-factor authentication, and keep unauthorized users at bay.
5. Customized Access Levels – Set different access levels and permissions for different team members and clients.
6. Advanced Search and Filtering – Find passwords easily and quickly by using advanced search and filtering options.
7. Password Generator – Create strong passwords using the built-in password generator tool.
8. Automatic Password Expiration Notifications – Get notified before passwords expire and renew them with ease.
9. Detailed Audit Trail – Track changes and access to passwords with detailed audit trails.
10. Secure File Transfer – Share files securely with team members.
With TurtlePass, you can manage your team passwords with peace of mind, knowing that your accounts and sensitive information are secure. Try it today and keep your team organized and secure.
[