FOR DEMO WHATSAPP US ON +2348061676089
SEND US A MESSAGE ON FACEBOOK FOR MORE INFO and DEMO
https://facebook.com/websaro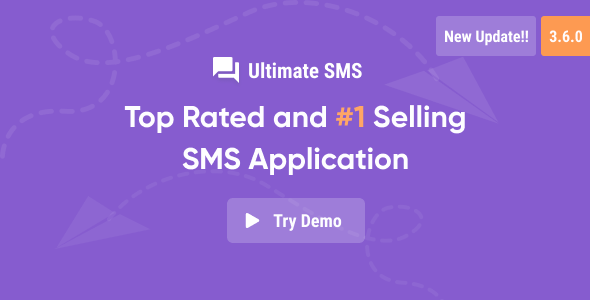 Ultimate SMS is a powerful bulk SMS application designed to automate and streamline marketing communication. With its user-friendly interface and advanced features, Ultimate SMS makes it easy to send targeted messages to your audience through SMS.
Features:
1. Easy To Use: Ultimate SMS is very intuitive and user-friendly. Even beginners can use it to create and send SMS messages without any technical skills.
2. Multiple SMS Gateways: Ultimate SMS supports multiple SMS gateways, including Twilio, Nexmo, Plivo, Clickatell, and many more. This ensures that you can send SMS messages worldwide with ease.
3. Sender ID Management: With Ultimate SMS, you can easily manage your sender ID for branding purposes.
4. Contact Management: You can manage your contacts, create groups, and import/export contacts with ease.
5. Scheduling: You can schedule SMS messages to send at a specific time and date, ensuring that your messages reach your audience at the right time.
6. Custom SMS templates: You can create custom SMS templates to save time and simplify your communication.
7. Analytics and Reporting: Ultimate SMS provides detailed analytics and reporting that helps you track and analyze the performance of your SMS campaigns.
8. SMS Verification: Ultimate SMS also supports SMS verification, which ensures that users are genuine and helps to prevent fraud.
Whether you are a small business owner, marketer, or entrepreneur, Ultimate SMS is the perfect tool for managing your bulk SMS marketing campaigns. With its user-friendly interface and advanced features, Ultimate SMS makes it easy to stay connected with your audience and grow your business.
[