FOR DEMO WHATSAPP US ON +2348061676089
SEND US A MESSAGE ON FACEBOOK FOR MORE INFO and DEMO
https://facebook.com/websaro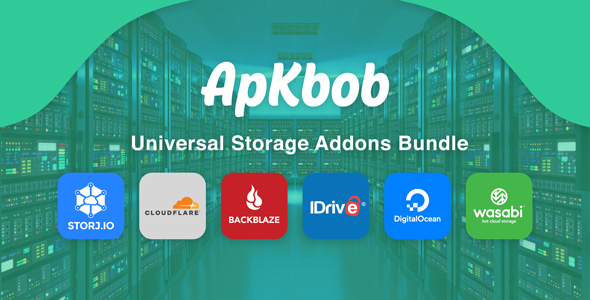 Universal Storage Add-ons Bundle for Apkbob is a comprehensive collection of add-ons that expands the storage capabilities and functionalities of Apkbob. With this bundle, you can easily manage and organize your files, share them with others, and access them from anywhere.
Features:
1. Cloud Storage Integration – With this add-on, you can seamlessly integrate Apkbob with popular cloud storage services like Google Drive, Dropbox, OneDrive, and more. This allows you to easily transfer files between Apkbob and your cloud storage accounts.
2. FTP/SFTP Support – This add-on lets you connect to an FTP or SFTP server and manage your files directly from Apkbob. You can upload, download, and delete files, create folders, and even edit files on the server.
3. File Encryption – Secure your sensitive files with this add-on that allows you to encrypt and decrypt files in Apkbob. You can also set a password for your files, ensuring that only authorized users can access them.
4. Zip and Unzip – Compress and decompress files and folders with ease using this add-on. It supports popular compression formats like ZIP, RAR, and 7Z, letting you archive your files for easier storage and transfer.
5. File Manager – The file manager add-on gives you complete control over your files and folders in Apkbob. You can create, rename, copy, move, and delete files and folders, and even access hidden files.
6. Share Files – Quickly and easily share your files with others using this add-on, which lets you generate a shareable link and send it to anyone.
Overall, Universal Storage Add-ons Bundle for Apkbob is a must-have for anyone who wants to expand the functionality of their Apkbob app and make the most of their storage space.
[