FOR DEMO WHATSAPP US ON +2348061676089
SEND US A MESSAGE ON FACEBOOK FOR MORE INFO and DEMO
https://facebook.com/websaro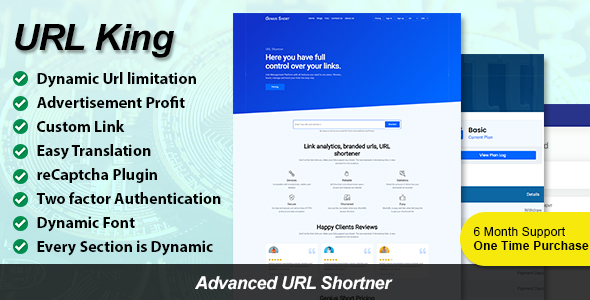 URL King is an advanced URL shortener that helps you to shorten your long URLs quickly and easily for sharing. With its user-friendly interface, powerful features, and high performance, it makes the process of shortening URLs hassle-free and faster than ever before. Built with cutting-edge technology, URL King offers you a variety of features that are highly beneficial for businesses and individuals who need to share long URLs frequently.
Features:
1. Multiple URL Shortening Options
URL King offers you multiple options to shorten your URLs such as custom, random, sequential, and even your own domain name. You can also set a prefix or suffix for your URLs to make them unique and easy to remember.
2. Click Tracking and Analytics
With URL King, you can track every click and view of your shortened URLs, including the user location, date, time, and device, etc. This feature helps you to analyze the performance of your links and adjust your marketing strategy accordingly.
3. Secure and Reliable
URL King ensures the security and reliability of your URLs with advanced security measures such as captcha, IP blocking, and SSL encryption. You can rest assured that your links are safe and protected from cyber threats.
4. Social Media Integration
URL King allows you to share your shortened URLs on popular social media platforms such as Facebook, Twitter, and LinkedIn, by just a few clicks. This saves your time and effort of copying and pasting the links manually.
5. API Integration
URL King supports API integration, which means you can integrate it with other applications, software, and services. This feature enables you to automate your URL shortening process and save you time and effort.
With URL King, you can shorten your URLs quickly and easily, without any hassle. It offers you powerful features, such as multiple options, click tracking, security, social media integration, and API integration to make your life easier and make your URL shortening process a success. Try it now and experience the benefits yourself!
[