FOR DEMO WHATSAPP US ON +2348061676089
SEND US A MESSAGE ON FACEBOOK FOR MORE INFO and DEMO
https://facebook.com/websaro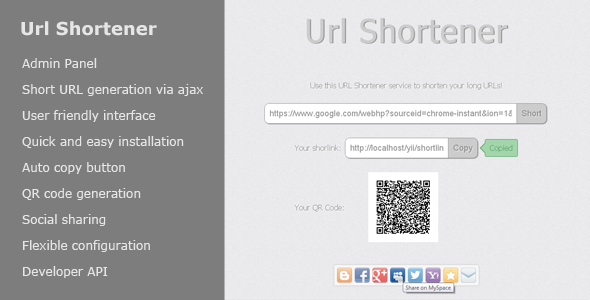 Introducing Url Shortener – the ultimate tool to create short, easy-to-read URLs for your website or project! With this powerful tool in your toolkit, you can create a custom URL that will help users remember your brand and build trust with your audience. Plus, with the added feature of tracking clicks and analytics, you can gain deep insight into how your URLs are performing.
Key Features:
1. Customizable Short URLs: Create and customize short URLs that fit perfectly with your brand.
2. URL Analytics: Keep track of clicks and visits on your short links with detailed reports and analytics.
3. Passwords Protection: Protect your valuable links with password protection to keep it secure and confidential.
4. QR Code Generation: Generate QR codes with short URLs to easily share them on printed materials like brochures and flyers!
5. Multiple Domains: Use multiple domains and sub-domains with a single installation to create short URLs with different top-level domains.
6. WordPress Plugin for Integration: Install the Url Shortener into your WordPress website with ease and make use of its advanced features.
7. User Management: Easily manage your users with an intuitive management panel provided in the admin area.
With Url Shortener, creating short, user-friendly URLs has never been easier. Take advantage of its advanced features to track clicks, protect your links, and create impactful marketing tools that will grow your business! So, get started today and take one step closer to growing your business through effective branding!
[