FOR DEMO WHATSAPP US ON +2348061676089
SEND US A MESSAGE ON FACEBOOK FOR MORE INFO and DEMO
https://facebook.com/websaro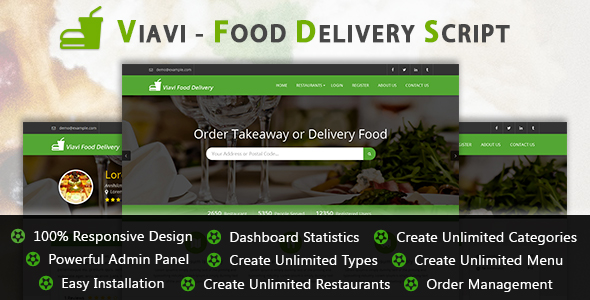 Viavi – Food Delivery Script is a complete solution for food delivery businesses looking to manage both their online and offline orders. With Viavi, you can easily manage your menu items, take orders, track deliveries, and process payments, all from one easy-to-use platform.
Key Features:
1. Multiple Restaurant Support
Viavi supports multiple restaurant support, allowing users to select the restaurant of their choice and place orders accordingly.
2. Menu Management
Viavi has an easy-to-use menu management system that allows the restaurant owner to add, edit, and delete menu items as needed.
3. Order Management
The order management system lets a restaurant owner manage all orders and track deliveries in real-time. With Viavi, restaurants can accept orders both online and offline, making it easier to manage all orders from one central location.
4. Payment Processing
Viavi provides seamless integration with popular payment gateways like PayPal and Stripe, allowing users to pay online and track payment history with ease.
5. Delivery Tracking
Viavi's advanced delivery tracking system lets users track deliveries in real-time, ensuring that the food arrives at the right time.
6. Customizable Design
Viavi's customizable design feature lets restaurant owners brand their platform and make it truly unique to their business.
7. User Management
Viavi comes with a comprehensive user management system that lets restaurant owners manage users and their permissions with ease.
8. Reports and Analytics
Viavi provides detailed reports and analytics about orders, deliveries, and payments, making it easier to optimize your business.
Viavi – Food Delivery Script is a powerful tool for any food delivery business looking to expand their reach and manage orders more efficiently. With its intuitive interface, robust features, and user-friendly design, Viavi makes it easy to manage orders, track deliveries, and process payments with ease. So, what are you waiting for? Get started with Viavi today and take your food delivery business to the next level!
[