FOR DEMO WHATSAPP US ON +2348061676089
SEND US A MESSAGE ON FACEBOOK FOR MORE INFO and DEMO
https://facebook.com/websaro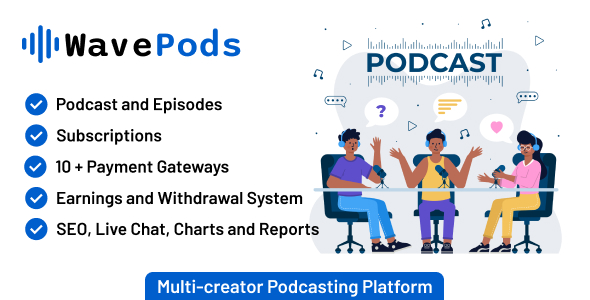 WavePods is a powerful multi-creator podcasting platform that is built to help you create, publish, and monetize your podcasts with ease. Whether you're a seasoned podcaster or are just starting out, WavePods has all the tools you need to take your podcasts to the next level.
WavePods comes packed with features that are designed to make podcasting simple and effective. Here are some of the key features of WavePods:
1. Multi-creator support – Create and manage multiple shows with different hosts.
2. Customizable branding – Customize your podcast branding with your own logo and color scheme.
3. Audio recording – Record your podcasts and edit them with ease using WavePods' built-in audio editor.
4. Automatic transcriptions – Get automatic, high-quality transcriptions of your podcasts that are optimized for SEO.
5. Distribution to major podcast platforms – Publish your podcasts to iTunes, Google Play, Spotify, and other major podcast platforms with just a few clicks.
6. Monetization tools – Monetize your podcasts with advertising, sponsorships, and subscriptions.
7. Analytics – Track your podcast's metrics with detailed analytics that help you understand your audience better.
8. Community features – Engage with your audience through comments, likes, and more.
WavePods is the ultimate podcasting platform for creators who want to take their podcasts to the next level. Get started today and start creating high-quality podcasts that engage and entertain your audience!
[