FOR DEMO WHATSAPP US ON +2348061676089
SEND US A MESSAGE ON FACEBOOK FOR MORE INFO and DEMO
https://facebook.com/websaro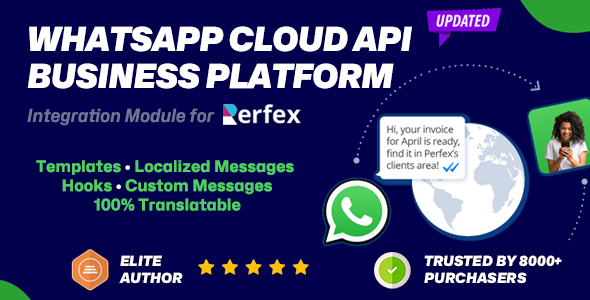 Integrate the power of WhatsApp into your Perfex CRM with our revolutionary WhatsApp Cloud API Business Integration module. Say goodbye to manual data entry and save time, money, and effort with this powerful tool that allows you to automate your WhatsApp communication and streamline your business processes.
Our module is designed to provide seamless integration between your Perfex CRM and WhatsApp, ensuring that you are always able to stay ahead of the competition while enhancing your customer service capabilities. Here are the features that make our WhatsApp Cloud API Business Integration module stand out:
1. Support for WhatsApp Business: With our module, you can easily integrate WhatsApp Business into your Perfex CRM. This allows you to leverage advanced feature sets like automated messages, business profiles, and more.
2. Two-Way Messaging: Our module enables you to send and receive messages directly from your Perfex CRM dashboard. Get instant notifications, reply to incoming messages, and engage with your customers seamlessly.
3. Bulk Messaging: Send targeted messages to your entire customer base with just a few clicks. Our module allows you to create dynamic templates that can be customized to your needs, and send them en masse.
4. Advanced Automation: Automate your WhatsApp communication with advanced automation features like message scheduling, auto-replies, and more. This will help you save time and improve your customer service levels.
5. Real-Time Analytics: Track the performance of your WhatsApp campaigns with granular analytics that provide real-time insights. Use this data to optimize your campaigns and improve your ROI.
6. Multiple WhatsApp Accounts: Our module supports multiple WhatsApp accounts, so you can manage all your business communication from one central location.
In conclusion, our WhatsApp Cloud API Business Integration module offers a comprehensive solution for businesses looking to leverage the power of WhatsApp for customer communication. With its powerful automation features, seamless integration with your Perfex CRM, and advanced analytics capabilities, you can take your business to new heights of success.
[