FOR DEMO WHATSAPP US ON +2348061676089
SEND US A MESSAGE ON FACEBOOK FOR MORE INFO and DEMO
https://facebook.com/websaro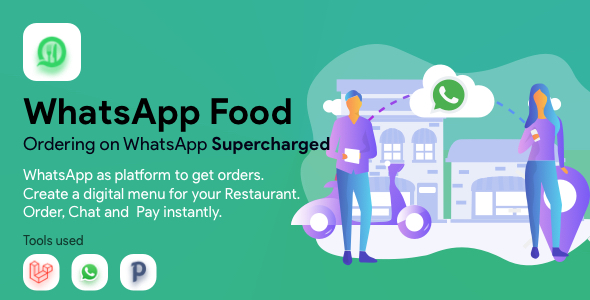 Introducing WhatsApp Food – an innovative Software-as-a-Service (SaaS) solution designed to revolutionize the way restaurants operate in the digital age. Leveraging the power of WhatsApp, this platform allows restaurant owners to accept orders and manage their business directly through the world's most popular messaging app.
With WhatsApp Food, your restaurant can streamline operations, improve customer engagement, and boost sales like never before. Some of the features included in this cutting-edge solution include:
– Interactive Menu: WhatsApp Food provides a user-friendly interface that allows customers to access your menu, browse items, and place orders seamlessly. With an intuitive design and dynamic capabilities, this solution is perfect for restaurants of all sizes.
– Easy Order Management: This platform enables you to receive orders directly on WhatsApp, which ensures faster notifications and prompt processing. You can also track order status, view history, and manage payments securely and efficiently.
– Customizable Settings: WhatsApp Food is built to be flexible and versatile, allowing you to tailor the solution to your specific business needs. You can customize opening hours, set delivery areas, manage discounts and promotions, and more.
– Automated Notifications: Your customers will be kept informed at every step of the ordering process, thanks to the automated notifications feature of WhatsApp Food. You can send order confirmations, estimated delivery times, and other updates in real-time to improve the customer experience.
– Multi-language Support: WhatsApp Food supports multiple languages, making it perfect for restaurants that cater to a diverse customer base. You can configure the platform to accept orders in different languages, ensuring your customers feel at home when they order from your menu.
With WhatsApp Food, your restaurant can improve operational efficiency, increase sales, and enhance customer satisfaction. Don't wait any longer to transform your business – try WhatsApp Food today!
[