FOR DEMO WHATSAPP US ON +2348061676089
SEND US A MESSAGE ON FACEBOOK FOR MORE INFO and DEMO
https://facebook.com/websaro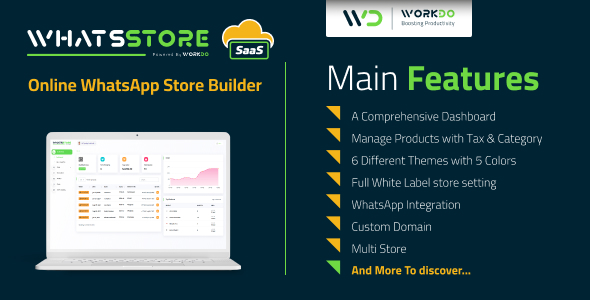 WhatsStore SaaS is a powerful online WhatsApp store builder that enables you to create and manage your own online store on the most popular messaging app in the world. With this platform, you can sell everything from clothing and apparel to digital products and services in a simple, intuitive, and secure way.
Features:
– Easy-to-use WhatsApp store builder: With WhatsStore SaaS, you can create and manage your own online store on WhatsApp in minutes. No coding or technical expertise is required, and you can customize your store to match your brand's look and feel.
– Secure transactions: WhatsStore SaaS integrates with multiple payment gateways to ensure secure and hassle-free transactions between you and your customers.
– Customer management: You can use WhatsStore SaaS to manage your customers' orders, payments, and delivery details in one place. You can also communicate with your customers directly on WhatsApp to provide support or answer any questions they might have.
– Product management: WhatsStore SaaS offers a user-friendly dashboard that enables you to add, edit, and manage your products easily. You can also use the platform to set up promotions and discounts to boost your sales.
– Data analytics: With WhatsStore SaaS, you can track your store's performance, sales, and customer interactions using real-time analytics and insights. This feature enables you to make informed decisions and optimize your store for better results.
In summary, WhatsStore SaaS is an all-in-one solution for entrepreneurs and businesses that want to create an online store on WhatsApp. Whether you're selling physical or digital products, this platform provides everything you need to build, manage, and grow your WhatsApp store.
[