FOR DEMO WHATSAPP US ON +2348061676089
SEND US A MESSAGE ON FACEBOOK FOR MORE INFO and DEMO
https://facebook.com/websaro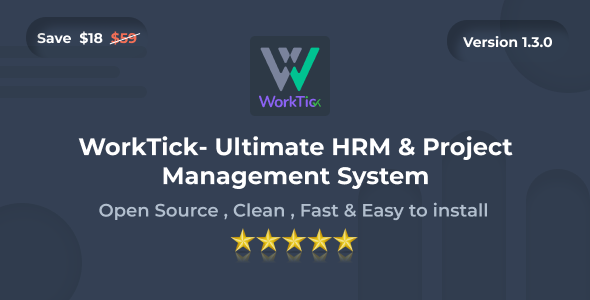 WorkTick is a powerful HRM and project management tool designed to help businesses streamline and automate their HR processes. With WorkTick, you can easily manage employee information, track time and attendance, monitor task progress, and more, all from a single, intuitive platform.
Key features of WorkTick include:
1. Employee management: Easily add and manage employee information, including contact details, employment history, and performance evaluations.
2. Time and attendance tracking: Monitor employee attendance and time worked, including sick leave, vacation days, and other time off.
3. Task management: Assign tasks to employees, set deadlines, and monitor progress all in one place.
4. Project management: Keep track of project timelines, assign tasks, and collaborate with team members for efficient project delivery.
5. Document management: Store and organize employee files, contracts, and other important documents securely in your WorkTick account.
6. Reporting and analytics: Generate detailed reports on employee performance, attendance, and project status to help you make data-driven decisions.
7. Customization options: Personalize your WorkTick experience by modifying the interface, creating custom fields, and adding logos and branding elements.
With WorkTick, you can streamline your HR and project management processes, automate mundane tasks, and focus on what really matters for your business. Whether you're a small startup or a large enterprise, WorkTick has everything you need to manage your workforce and deliver projects on time, every time.
[