FOR DEMO WHATSAPP US ON +2348061676089
SEND US A MESSAGE ON FACEBOOK FOR MORE INFO and DEMO
https://facebook.com/websaro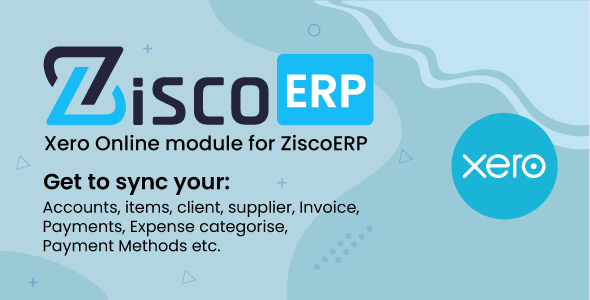 Xero Sync Module for ZiscorERP is a powerful integration tool that enables you to effortlessly synchronize your ZiscorERP data with your Xero cloud accounting software. With the help of this module, you can easily keep your accounts up-to-date, save hours of manual labor, and prevent manual errors.
The Xero Sync Module allows seamless integration between ZiscorERP and Xero, ensuring that all financial data, including accounts payable, accounts receivable, inventory and cost of goods sold, sales orders, and invoices, are transferred accurately and automatically. With this module, you can focus on what matters most – growing your business.
Features:
– Multiple Records Sync: You can easily synchronize multiple records such as invoices, payments, bills, and customers from ZiscorERP to Xero.
– Customizable Sync Settings: The module allows you to customize sync settings as per your business needs, including options for mapping accounts, syncing tax codes, and more.
– Two-Way Sync: Easily synchronize data between ZiscorERP and Xero in both directions – from Xero to ZiscorERP or from ZiscorERP to Xero.
– Account Management: Manage your Xero and ZiscorERP accounts from a single dashboard for maximum efficiency.
– Transaction Logs: Detailed transaction logs provide you with complete visibility and transparency on sync events and errors.
– User-Friendly Interface: The module features an intuitive and user-friendly interface that makes it easy for you to set up and use.
If you're looking for a reliable and efficient solution that helps you seamlessly integrate your ZiscorERP data with Xero, then the Xero Sync Module for ZiscorERP is the perfect tool for you. Try it now and experience the benefits of automated sync.
[