FOR DEMO WHATSAPP US ON +2348061676089
SEND US A MESSAGE ON FACEBOOK FOR MORE INFO and DEMO
https://facebook.com/websaro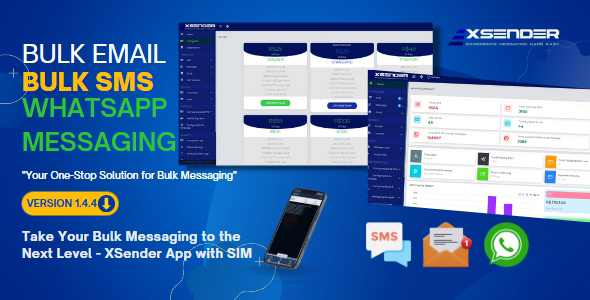 XSender is a powerful messaging application that allows the users to send bulk messages through email, SMS, and WhatsApp with ease. This application is a perfect solution for businesses, organizations or individuals who need to communicate with large groups of people efficiently and cost-effectively.
The application is feature-rich and has been carefully crafted to meet all your messaging needs. Our advanced features make XSender stand out among all other messaging apps available in the marketplace. Some of the features are:
1.Bulk Messaging: Send bulk email, SMS and WhatsApp messages to thousands of recipients at once.
2.Email Templates: Create and customize multiple email templates, which allows you to quickly send pre-designed messages and reduce time on repetitive tasks.
3.Contact Management: Manage your contacts efficiently by adding them individually or importing bulk contacts from CSV files.
4.Reporting: Get detailed reports with real-time analysis of your messaging campaigns, including delivery status, open rates, click rates, and bounce rates.
5.Scheduling: Schedule messages to be sent at a specific time and date, which allows you to reach your audience when they are most likely to engage with your communication.
6.Blacklist Management: Manage the blacklist and remove inactive or disinterested contacts to keep your messaging campaigns relevant and avoid spamming them with irrelevant content.
7.Instant Alerts: Get instant alerts for successful delivery of your messages, which helps you track your messages and ensure data accuracy.
In conclusion, with XSender, you can connect with your audience through email, SMS, and WhatsApp effortlessly and efficiently. XSender is the perfect solution for businesses, organizations or individuals looking for an all-in-one messaging application. Get XSender today and experience streamlined and effective communication.
[