FOR DEMO WHATSAPP US ON +2348061676089
SEND US A MESSAGE ON FACEBOOK FOR MORE INFO and DEMO
https://facebook.com/websaro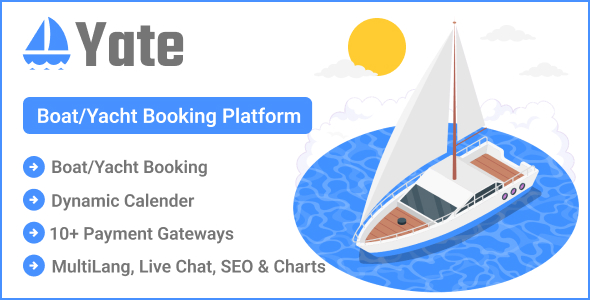 Introducing Yate – the ultimate boat/yacht booking platform that simplifies the process of reserving a boat or yacht for your next adventure. Yate features a user-friendly interface that allows you to easily find, book, and manage your booking details for your next sailing experience.
With Yate, you can browse through an extensive selection of boats and yachts available for rent, from small day boats to luxury yachts for extended voyages. Yate's built-in search filters allow you to narrow down your search to the exact specifications you are looking for, such as location, price range, passenger capacity, and more.
One of Yate's unique features is its advanced reservation system that allows you to make bookings in real-time. With a few quick taps, you can instantly check availability, make a booking, and receive confirmation of your reservation. Yate also offers an integrated payment system that securely processes all transactions to ensure a hassle-free experience for both boat owners and renters.
Another key feature of Yate is its intuitive dashboard, which allows you to manage all aspects of your bookings from a single, easy-to-use interface. With Yate, you can view your past and upcoming bookings, track payment information, communicate with boat owners, and even rate your experiences. Yate is available in multiple languages, making it accessible to users across the globe.
Features:
– Extensive selection of boats and yachts available for rent
– Advanced search filters for easy browsing and booking
– Real-time booking and payment system
– Intuitive dashboard for managing all booking details
– Communication system with boat owners
– Rating system for rating past experiences
– Multilingual support
– And much more.
Whether you are a boat owner or a renter, Yate is the perfect platform for all your boating needs. Try Yate today and discover a whole new world of sailing.
[