FOR DEMO WHATSAPP US ON +2348061676089
SEND US A MESSAGE ON FACEBOOK FOR MORE INFO and DEMO
https://facebook.com/websaro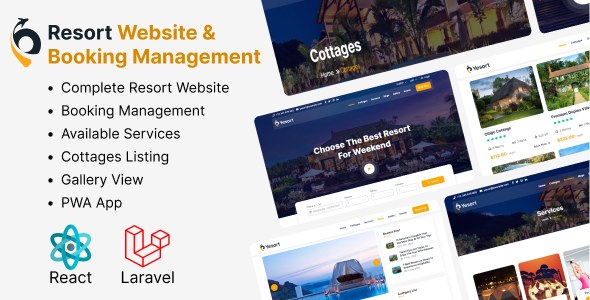 Yesort – PWA Resort Website & Booking Management Web Application is a comprehensive all-in-one solution for managing resort websites, bookings and reservations, and customer management. Built with the latest web technologies, this application is fully responsive and compatible with all devices, making it accessible on the go.
With Yesort, you can easily create and manage your resort website and bookings in one place. This application includes a range of features that provide complete automation of booking processes, thus reducing workload and streamlining processes. Here are some of the key features of Yesort:
Responsive Design:
Yesort features a responsive design that ensures your resort website is accessible on all devices, offering a seamless user experience.
Advanced Booking Management System:
Yesort's booking management system is a sophisticated and efficient booking system, allowing your guests to book their reservations via an easy and user-friendly booking form.
Payment Gateway Integration:
The application is integrated with payment gateways such as PayPal and Stripe, allowing you to accept online payments quickly and hassle-free.
Room and Amenities Management:
Yesort enables you to manage your room availability, inventory, and amenities so you can offer quality services to your guests effortlessly.
Dashboard for Real-time Information:
Access real-time information on your Yesort dashboard, including booking details, payments, and revenue.
Responsive Navigation:
The application features an intuitive and easy-to-use navigation system, allowing both web admin and guests to navigate quickly and easily without any hassle.
Customer Management:
Yesort facilitates optimal customer service with a customer management portal. The system allows you to manage customer inquiries, feedback, and serve them efficiently.
In a nutshell, Yesort – PWA Resort Website & Booking Management Web Application is crafted to optimize your resort operations. Try it out today and make customer bookings and management seamless.
[