FOR DEMO WHATSAPP US ON +2348061676089
SEND US A MESSAGE ON FACEBOOK FOR MORE INFO and DEMO
https://facebook.com/websaro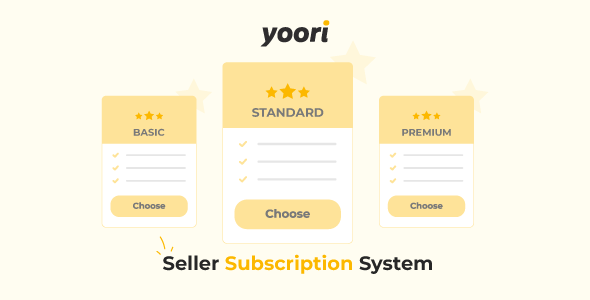 **YOORI eCommerce Seller Subscription Addon – A Must-Have Addition to Your Online Marketplace**
With the YOORI eCommerce Seller Subscription Addon, turn your online marketplace into a lucrative business opportunity for you and your sellers. Allow them to subscribe to a monthly or yearly plan and enjoy a host of benefits and tools for managing their store effectively.
Listed below are some of the features that make this Addon stand out:
**Flexible Subscription Plans**: Offer your sellers a range of subscription plans with different pricing tiers. Choose from monthly or annual subscription options and set your own pricing and billing cycles.
**Payment Gateway Integration**: Easily integrate multiple payment gateways to collect recurring payments from your sellers. Payment methods include PayPal, Stripe, Braintree, and many more.
**Customizable Plan Options**: Customize your subscription plans by setting limits for product uploads, orders, and free shipping. You can also restrict access to features like analytics and promotional tools based on subscription level.
**Invoicing and Receipts**: Provide your sellers with automated monthly or yearly invoices and receipts for all transactions, helping you keep track of subscription payments and revenue with ease.
**Admin Dashboard**: Get an overview of your seller's subscriptions, revenue breakdown, and manage subscriptions via a centralized admin dashboard.
**Email Notification System**: Keep your sellers informed about their subscription status with automated email notifications. Let them know when their subscription is about to expire or when payment is due.
**Renewal and Cancellation**: Manage subscription renewals and cancellations effortlessly, with the option to customize duration and automate renewal as well.
In today's competitive e-commerce industry, providing your sellers with added tools and flexibility is key to attracting more seller signups and revenue. The YOORI eCommerce Seller Subscription Addon helps you unlock this potential, making it a must-have addition for your online marketplace.
[