FOR DEMO WHATSAPP US ON +2348061676089
SEND US A MESSAGE ON FACEBOOK FOR MORE INFO and DEMO
https://facebook.com/websaro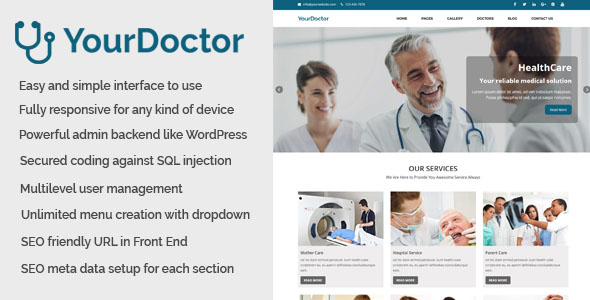 Yourdoctor is a comprehensive medical and doctor website CMS that allows you to seamlessly create and manage a professional online presence for your medical practice. With an intuitive and easy-to-use interface, you can quickly set up your website, customize the appearance, and add all the necessary information about your practice, services, and team members.
Some of the key features of Yourdoctor include:
1. Responsive design: Yourdoctor is fully responsive and optimized for all devices, ensuring that your website looks great on desktops, laptops, tablets, and smartphones.
2. Appointment booking: Patients can easily book appointments online through your website. You can set up availability, time slots, and confirmation emails in just a few clicks.
3. Online payments: Patients can pay for their appointments online, eliminating the need for manual payments or handling invoices.
4. Doctor profiles: You can add detailed profiles for each doctor in your practice, including their areas of expertise, education, and experience.
5. Service pages: Yourdoctor includes pre-designed service pages that you can customize to showcase your practice's key services, treatments, and procedures.
6. Blogging functionality: You can easily create blog posts to keep your patients informed about the latest medical news, updates, and tips.
7. Testimonials: Patients can leave reviews and testimonials on your website, building trust and credibility for your practice.
8. SEO-friendly: Yourdoctor is designed with SEO in mind, making it easy to get your website ranked higher in search engine results pages.
9. Customization options: There are several customization options available, allowing you to tailor your website's appearance to match your brand and style.
10. Support and updates: We offer free technical support and regular updates to ensure that Yourdoctor stays up-to-date with the latest trends and technologies.
With Yourdoctor, you can easily create a professional and user-friendly website for your medical practice. Get started today and attract more patients online.
[