FOR DEMO WHATSAPP US ON +2348061676089
SEND US A MESSAGE ON FACEBOOK FOR MORE INFO and DEMO
https://facebook.com/websaro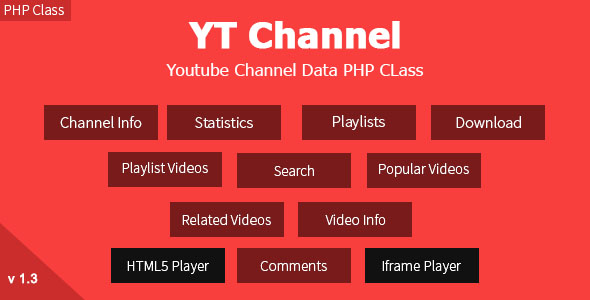 YT Channel – YouTube Channel And Video Details API V3 PHP Class is a powerful and flexible PHP class that gives developers easy access to detailed information about YouTube channels and videos. With this class, you can quickly and easily retrieve all kinds of data related to YouTube channels and videos, making it perfect for creating applications that rely on this information.
Features:
1. Easy to use: The class is simple to install, and the API calls are easy to make. You can start retrieving data in minutes.
2. Detailed channel information: Get access to all the information about a YouTube channel, including channel ID, title, description, and more.
3. Video details: Retrieve all the details about a YouTube video, including video ID, title, description, duration, and more.
4. Customizable queries: Customize your search queries to retrieve only the data you need.
5. Easy authentication: Authenticate your requests using a secure OAuth 2.0 authorization process.
6. Integration with Google APIs: The class is fully integrated with Google APIs, making it easy to access and use the data you need.
7. Comprehensive documentation: Our documentation is comprehensive and easy to understand, providing detailed instructions on how to use the class.
YT Channel – YouTube Channel And Video Details API V3 PHP Class is ideal for developers who want to build applications that require access to YouTube channel and video data. It's an essential tool for anyone looking to make the most out of YouTube's vast video library. Whether you're building a web application or a mobile app, this PHP class will help you get the job done quickly and efficiently.
[