FOR DEMO WHATSAPP US ON +2348061676089
SEND US A MESSAGE ON FACEBOOK FOR MORE INFO and DEMO
https://facebook.com/websaro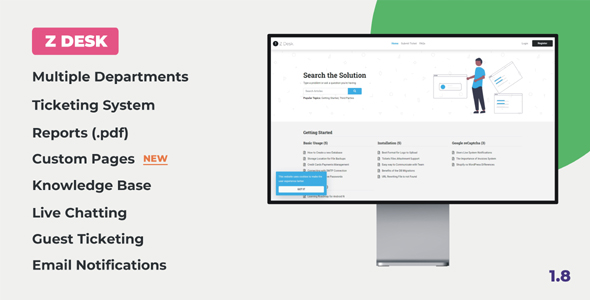 Z Desk – Support Tickets System with Knowledge Base and FAQs is a comprehensive solution to streamline your customer support process. It enables you to manage customer inquiries and issues efficiently, communicate with your customers seamlessly, and provide them with the information they need through your knowledge base and FAQs.
With Z Desk, you can create custom forms to gather customer information and create support tickets. You can also track and prioritize tickets based on their urgency and status. It enables you to assign tickets to specific agents or teams, set up personalized email notifications, and send automated reminders to ensure timely resolution of issues.
The integration of a robust knowledge base and FAQs helps reduce the number of support tickets, providing customers with quick access to relevant information, which, in turn, improves customer satisfaction. The knowledge base is customizable, so you can easily create and organize articles, topics, and categories to provide your customers with the information they need.
Z Desk's user-friendly interface allows you to easily manage your support tickets and access all the necessary information on a single dashboard. The system also provides you with detailed analytics and reporting on ticket status, agent performance, and customer satisfaction.
Key Features:
– Custom ticket forms with personalized fields
– Ticket tracking and prioritizing based on urgency and status
– Ticket assignment to specific agents or teams
– Personalized email notifications and automated reminders
– Integrated knowledge base and FAQs
– Customizable articles, categories, and topics in the knowledge base
– Analytics and reporting on ticket status, agent performance, and customer satisfaction
– User-friendly interface
– Multi-language support
Z Desk is an all-in-one solution that takes care of your support ticket system and knowledge base needs, enhancing your customer support experience and improving customer satisfaction. It's ideal for businesses of all sizes, from startups to enterprises, looking to provide top-notch customer support.
[