FOR DEMO WHATSAPP US ON +2348061676089
SEND US A MESSAGE ON FACEBOOK FOR MORE INFO and DEMO
https://facebook.com/websaro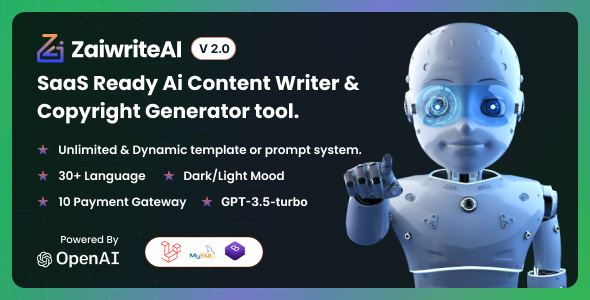 ZaiwriteAI is a cutting-edge Ai Content Writer & Copyright Generator tool With SAAS that is revolutionizing the content creation process. With its advanced machine learning algorithms, ZaiwriteAI is capable of generating high-quality content that is both unique and engaging with just a few clicks of a button. Whether you're a blogger, marketer, or content creator, ZaiwriteAI is the perfect solution for creating compelling content that drives traffic and engages your audience.
Features:
1. High-Quality Content Generation – ZaiwriteAI uses advanced machine learning algorithms to generate high-quality, unique content that engages your audience and drives traffic to your website.
2. Multiple Content Types – With ZaiwriteAI, you can create a wide range of content types including blog posts, product descriptions, social media posts, and more.
3. Customizable Content – ZaiwriteAI gives you the ability to customize your content based on your specific needs, making it the perfect tool for marketers and content creators alike.
4. Copyright Generator – ZaiwriteAI has a built-in copyright generator that ensures your content is original and unique, allowing you to avoid any legal issues down the line.
5. SAAS Integration – ZaiwriteAI is fully integrated with SAAS, making it easy to access and use from anywhere in the world.
6. User-Friendly Interface – With its intuitive user interface, ZaiwriteAI is easy to use and requires no technical expertise, making it the perfect tool for beginners and experts alike.
If you're looking for a powerful content creation tool that takes advantage of the latest AI technology, ZaiwriteAI is the perfect solution. Try it out today and experience the difference for yourself!
[