FOR DEMO WHATSAPP US ON +2348061676089
SEND US A MESSAGE ON FACEBOOK FOR MORE INFO and DEMO
https://facebook.com/websaro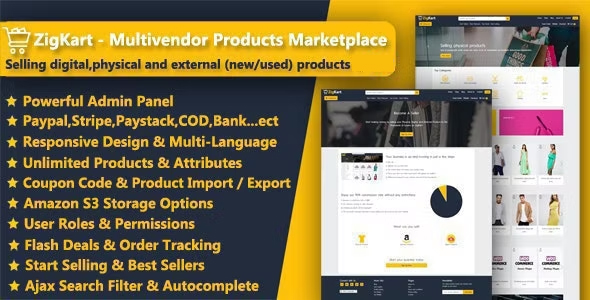 ZigKart is a versatile and powerful online marketplace platform that allows anyone to launch their own e-commerce website and start selling products in a single vendor or multi-vendor environment. With ZigKart, you can build a fully functional online store with ease, whether you're starting from scratch or looking to expand your existing business. Our platform is packed with features that make it easy to manage products, orders, and payments, and our intuitive interface makes it easy for shoppers to browse and purchase products from your store.
Key Features:
– Single Vendor or Multi-Vendor Support: ZigKart supports both single vendor and multi-vendor marketplaces, making it easy for you to launch your own e-commerce platform.
– Powerful Product Management: With ZigKart, you can easily add, edit, and manage products, including pricing, descriptions, images, and categories.
– Multiple Payment Gateways: ZigKart supports a variety of payment gateways, including PayPal, Stripe, and several other popular options, so you can accept payments from customers around the world.
– Flexible Shipping Options: ZigKart allows you to set up shipping options based on weight, dimensions, location, and other criteria, giving you complete control over your shipping process.
– Multi-Language and Multi-Currency Support: With support for multiple languages and currencies, ZigKart makes it easy to sell products to customers around the world.
– Robust Admin Panel: Our powerful admin panel lets you manage all aspects of your store, including orders, products, customers, payments, and more.
– Easy Customization: ZigKart is highly customizable, with a range of templates and themes to choose from, as well as the ability to add custom HTML and CSS.
– SEO Optimization: ZigKart is optimized for SEO, with built-in tools to help you optimize your pages and products for search engines.
With ZigKart, you can create a fully functional online store in minutes, with all the features and functionality you need to sell your products online. Whether you're a small business owner looking to expand your sales channels or an entrepreneur looking to launch a multi-vendor marketplace, ZigKart is the perfect solution.
[