FOR DEMO WHATSAPP US ON +2348061676089
SEND US A MESSAGE ON FACEBOOK FOR MORE INFO and DEMO
https://facebook.com/websaro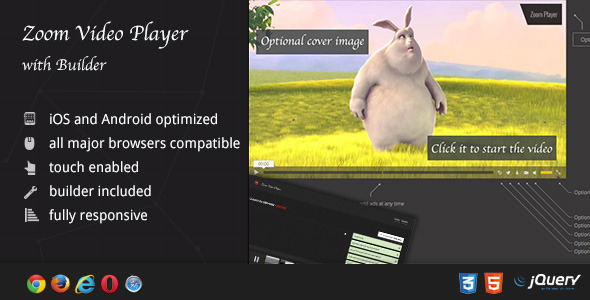 Welcome to Zoom Video Player, the ultimate video player solution for web developers and designers. With this codecanyon item, you get a fully customizable and highly functional video player with a drag-and-drop builder that allows you to create the perfect player for your needs.
Features:
1. Fully customizable interface – Easily design your player with a full set of customization options.
2. Responsive design- the player will adjust perfectly on any screen size, including mobile devices.
3. Cross-browser compatibility – works seamlessly across all major browsers like Chrome, Firefox, Safari, Edge, and Internet Explorer.
4. Video formats – Supports various video formats such as MP4, Webm, Ogg, YouTube, Vimeo, and more.
5. Autoplay and Looping – Provides users with an option to autoplay videos on page load and loop the video continuously.
6. Subtitles – Add custom subtitles to your video with different languages for the users.
7. Password-protected videos – Set passwords for videos to secure your content from unauthorized access.
8. Speed Control – Allows users to control the playback speed of videos for better viewing.
The Zoom Player Builder:
Our drag-and-drop builder allows you to create the perfect video player for your needs with just a few clicks. You can customize the player to match your website branding and aesthetic. Choose a color scheme, design custom buttons, and customize text as per your requirements.
Get the Zoom Video Player now and impress your audience with an efficient and user-friendly video player.
[