FOR DEMO WHATSAPP US ON +2348061676089
SEND US A MESSAGE ON FACEBOOK FOR MORE INFO and DEMO
https://facebook.com/websaro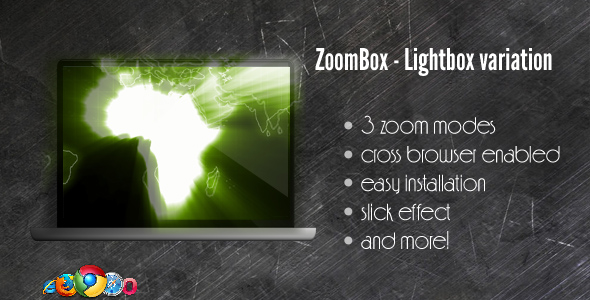 ZoomBox Lightbox Variation is a powerful, jQuery-powered solution for creating stunning lightbox displays and enhancing your website's visual impact. It's perfect for showcasing product images, galleries, and other content in a stylish and modern way.
This easy-to-use plugin is packed full of features and customization options to help you create the perfect lightbox display for your needs. With its intuitive interface and powerful functionality, ZoomBox Lightbox Variation is the perfect solution for any website looking to take its visual game to the next level.
Key Features:
– Easy to use: the plugin is simple to install and easy to configure, even if you have no coding experience.
– Powerful customization options: choose from a variety of customizable options to create the perfect look and feel for your lightbox display.
– Responsive design: the ZoomBox Lightbox Variation is fully responsive, ensuring that your lightbox display looks great on any screen size.
– Touch and mobile-friendly: the plugin works seamlessly on touch screens and mobile devices, making it perfect for mobile-first websites.
– Adaptive image quality: the plugin automatically loads images at the optimal resolution and size, ensuring fast loading times and high-quality images.
– Thumbnail support: display a list of thumbnails under the main image, allowing users to easily browse through your image gallery.
– Social media sharing: add social media sharing buttons to your lightbox display, making it easy for users to share your content on their favorite social networks.
– Full-screen mode: allow your users to view your images in full-screen mode, taking advantage of every pixel on their screen.
– Keyboard and mouse navigation: enable keyboard and mouse navigation for your users, allowing them to easily move through your lightbox gallery without the need for a mouse.
Whether you're looking to showcase product images, galleries, or other visual content, ZoomBox Lightbox Variation is the perfect solution for creating a stunning and modern lightbox display. Get it today and take your website's visual game to the next level!
[